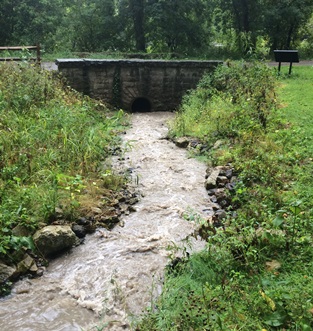 The Restoring Ottawa River Wetlands and Habitat Restoration project at Camp Miakonda has finally come to a close after many years. The project set out to restore stream habitat, reduce erosion, enhance wetlands, and improve upland habitat along the Ottawa River. After years of planning, preparation, construction and follow up education, Partners for Clean Streams, Boy Scouts of America, US Army Corps of Engineers and various other partners are thrilled with the restoration features and natural responses to the structures that were installed. Monitoring has reached a close as EnviroScience collected, measured and recorded insect populations and plant growth around the area of restoration. All results point to a healthy, thriving environment. As quality fish species return to Lake Sawyer, eager Boy Scouts prepare their fishing lines for the next season of camping.
The educational component of this project benefits both young and older scouts, as well as environmental professionals through advanced workshops. The educational benefits will continue well past the life of the grant. Last summer, eight educational signs were installed around the project area highlighting the work that was done, historical significance of the site, native wildlife, and activities for scouts to do. There are several other additional types of educational materials that scouts can use to complete various requirements for badges. One set of materials is an activity guide highlighting various activity stations on the educational signs around the project area. The activity guide will come in handy for summer camp or groups completing requirements at camp. Another helpful resource is macro invertebrate kits that can be borrowed and used for evaluating insects living in the tributaries and Ottawa River. All these educational components for the Scouts at Camp Miakonda center around our restoration project and expand how campers can interact with the river, lake and streams for years to come.
Check out the finalized fact sheet and pictures from throughout the project. PCS will continue to work with the camp to maintain the structures, encourage education and build upon the partnership that has been established throughout the years.