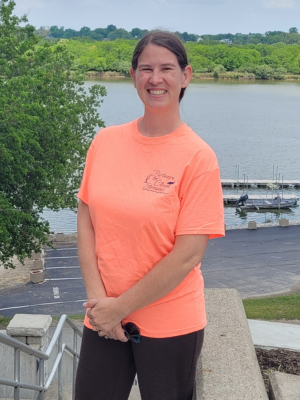 Kris has a Bachelor of Arts in Environmental Policy and Analysis from Bowling Green State University and a Master's in Environmental Science from Miami University of Ohio. She has been the Executive Director since shortly after PCS was founded in 2007. Previously, she was the Watershed Coordinator for the Duck and Otter Creeks Partnership, another non-profit watershed group in the Maumee Area of Concern. She was also on the Maumee RAP Committee, when it was under the TMACOG umbrella, for over 10 years.
Kris has long loved the outdoors, nature, and animals. While moving around the world as a military "brat," she has many important childhood memories centered around being outside, whether exploring on the beach (her personal preference!), in the woods, in the neighborhood stream or just playing outside until the street lights came on. She also learned the importance of clear, clean, and safe water from a young age, while living in Turkey where even the water that came out of the tap was rust-colored, funny-smelling, and not very potable. Kris remembers her mother working long hours, through multiple tedious steps, to make the water safer to drink – a privilege that most Americans take for granted today.
Kris has now put down deep roots here in Northwest Ohio where she has lived for more than 20 years (far longer than anywhere else in the world!). She and her husband, Brian, have settled in Perrysburg with their two kids – who are also growing up to love our natural world and play outside until the lights come on!